Danish auto market in 2020 falls by 12.2% as the pandemic and lockdowns affect sales. Full-Year sales have been 198.165. Ford registers the best performance by gaining 8.3% and jumping 2 spots while Skoda plummets 21.9%.
Market Trend
The Danish car market has been hit in 2020 by the world-wide COVID-19 pandemic, which has impacted sales significantly.
The market experienced five years of consecutive records since 2012 with the sales peak reached in 2016 when car passenger's sales have been 223.154 and light commercial vehicles 36.882.
Then in 2017 and 2018 the market marginally lost terrain, while, under the expectations of car park renewal for the introduction of new hybrid and electric vehicle models, in 2019 hit a new all-time record with 225.738 sales (+2.6%).
After starting the year with a negative trend (-12.4%), the market quickly collapsed in March as the virus struck and immediately registered the sharpest drop of the entire year, losing 42.3%. The entire first half of the year was characterized by double-digit losses, while recovery started in July (+13.4%). The second half of the year had a mixed trend, with a double-digit drop again in October (-17.9%) and an impressive increase in sales of 46.8% in December.
Indeed, Full-Year sales for 2020 have been 198.165, reporting a decline of 12.2% compared to 2019.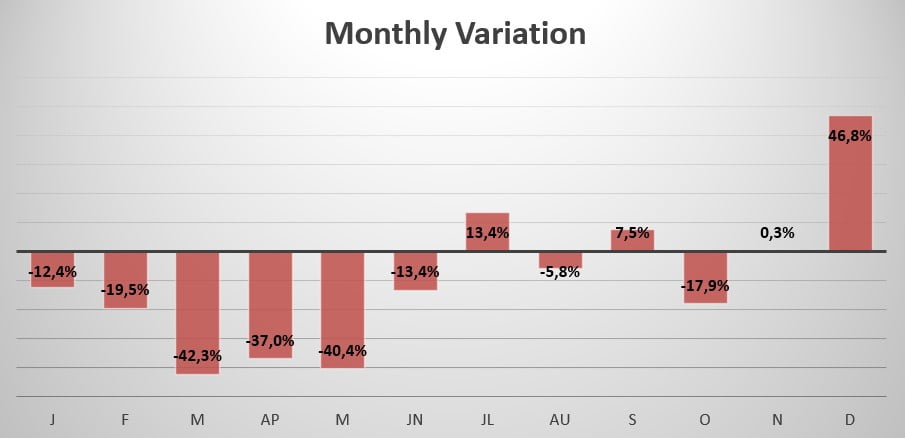 Brand-wise, this year the leader Volkswagen (-20.4%) lost 1.3% market share, followed by Peugeot (-8.6%), which gained 0.3% share. Toyota gained 0.1% share, falling 11.4%.  Ford reached 4th place and registered the best performance in the leaderboard by growing 8.3%, followed by Citroen which lost 14%.
Skoda -down 1 spot- registered the worst performance in the leaderboard by losing 21.9%, followed by Mercedes (-3%) and Renault which lost 15.4%. Closing the leaderboard we have Hyundai -up 1 spot- gaining 1.8% this year and BMW entering the leaderboard by jumping 1 spot, losing 3.7%.
The most sold vehicle this year has been the Peugeot 208 (-4.4%) with 6.553 units sold and jumped 2 spots, overtaking the Citroen C3, which lost 11.2% registering 6.141 new sales this year. The Ford Kuga (+618%) impressively closes the podium by jumping 91 spots and reports 5.134 new units sold.
Tables with sales figures
In the tables below we report sales for all Brands, top 10 Manufacturers Group and Top 10 models.