Jordanian Auto market in 2021 rises by 1.3% with 30,918 sales, reporting a very strong performance up to Q4, when sales dropped sharply. MG reported the best performance this year, gaining 69.8%.
Market Trend
The Jordanian car market this year attempted to recover from the pandemic crash of 2020 and reported a very promising performance all year except for Q4, when sales crashed in double-digits.
In the first part of this decade, the market was on a very positive track growing up from 20,016 units in 2010 to the all-time record of 69,583 units in 2014.
The growth was really too fast and when the economic environment started to deteriorate, due to the high public expenses correlated with refugees and low internal demand, the auto market declined. Initially, the negative trend was at acceptable speed with 2015 sales down at 61,774, still the second-best level ever, and then very fast, reaching out 30,353 units in 2018, following 5 years of loss.
In 2019, despite the very negative economic environment, the market remained almost flat. Indeed, Total sales in 2019 have been 29,786 (-1.8%).
Despite the COVID-19 pandemic affecting severely sales in April, full-year 2020 has been stable, even reporting a slight growth. In fact, sales have been 30,507, reporting a 2.4% growth compared to 2019.
In 2021 the year started positively for the Jordanian market, in fact, in Q1 7,880 units have been sold, reporting a 12.3% increase in sales compared to Q1 2020, and in Q2 sales kept growing, reporting a 19.1% increase in sales with 7,051 units.
In Q3 sales were still increasing, rising by 9.1% with 8,764, but the market fell sharply in Q4 with just 7,223 units (-24.4%).
Indeed, Full-Year sales for 2021 have been 30,918, reporting a 1.3% increase compared to 2020.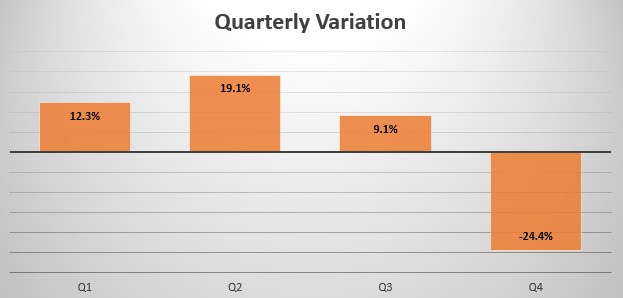 Brand-wise, this year the leader Toyota (+15.1%) gained 5% market share, followed by Hyundai (-8.4%), which lost 1.4% share, and Kia -up 1 spot- which gained 2.9% share, rising 36.3%.  Mitsubishi reached 4th place and gained 12.9%, followed by Isuzu which lost 22.2%.
MG reached 6th place and gained 69.8%, reporting the best performance, followed by Nissan (-50.2%) which reported the sharpest drop in the leaderboard, and Suzuki (+19.6%). Closing the leaderboard we have Honda -up 4 spots- gaining 55% this year and Chevroelt entering the leaderboard by jumping 1 spot and losing 25.3%.
The most sold vehicle this year is the Toyota Land Cruiser P/U (+111%) -up 1 spot- with 5,129 units sold, followed by the Toyota Land Cruiser (-40.8%)  registering 2,736 new sales this year. The Hyundai Tucson (+13.9%) -up 1 spot- closes the podium and reports 2,096 new units sold.
Tables with sales figures
In the tables below we report sales for Top 10 Brands and top 10 Models.