Poland's car market in 2021 rises by 4.5% with 447,637 sales, reporting a positive performance in the first half, followed by a progressive fall in the second part of the year. Hyundai reports the best performance this year, rising 45.9%.
Market Trend
Poland's car market this year attempted to recover from the pandemic crash of 2020 and reported a very promising performance in the first half, followed by a progressive fall in the second half.
The market is characterized by a large used vehicle market and, unique in Europe, by a strong import of "fresh" used vehicles mainly arriving from Germany. However, in recent years, the research for lower-emission vehicles and the increased income available for spending in mobility has generated a strong demand for new cars boosting the market from 384,000 in 2012 to 489,190 in 2018.
However, this positive trend is not designed to end in short and in 2019 the market has further grown, flying for the first time over the milestone of half a million units sold in a calendar year, hitting the 5th consecutive all-time record.
Because of the COVID-19 pandemic sales significantly decreased in  2020. In fact, sales have been 428,347, reporting a fall of 22.9% compared to 2019.
In 2021 the year started positively for the Polish market, in fact, in Q1 117,865 units have been sold, reporting a 9.5% increase in sales, followed by a 73.5% increase in sales in Q2 with 125,248 units due to the very low volumes in Q2 2020.
In Q3 sales started falling slowly, reporting a 8.8% drop with 105.152 units, followed by a sharper drop of 25.4% in Q4 with 99,372 units.
Indeed, Full-Year sales for 2021 have been 447,637, reporting a 4.5% increase compared to 2019.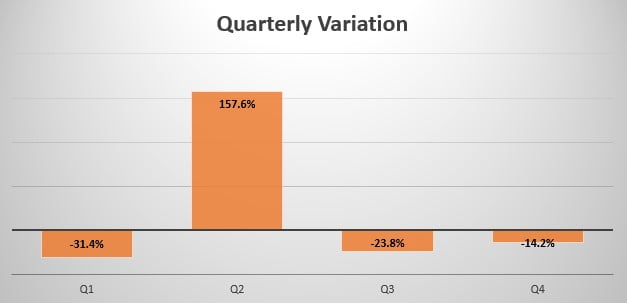 Brand-wise, this year the leader Toyota (+21.5%) gained 2.3% market share, followed by Skoda (-20%), which reported the worst performance on the leaderboard and lost 3.1% share. Volkswagen lost 1% share, falling 7.5%.  Kia remained in 4th place (+34%), followed by Hyundai –up 4 spots- which reported the best performance by gaining 45.9% sales.
BMW -up 4 spots- gained 31.2%, followed by Mercedes which lost 1.3%, and Dacia which fell 2 spot and lost 4.8% sales. Closing the leaderboard we have Ford gaining 2.3% this year and Audi entering the leaderboard and increasing sales by 21.7%.
The most sold vehicle this year has been the Toyota Corolla (+26.2%) with 22,097 units sold, followed by the Toyota Yaris, which lost 5.8% registering 14,483 new sales this year. The Skoda Octavia (-29.7%) closes the podium and reports 13,120.
Tables with sales figures
In the tables below we report sales for 10 Brands and top 10 Models.