Portugal's car market in 2021 rises just 0.8% with 146,637 sales, reporting a positive performance only in Q2 because of the extremely low sales in Q2 2020. Peugeot overtakes the previous leader Renault, and rises 11%.
Market Trend
The Portuguese car market started the year very negatively, performed impressively in Q2 due to the extremely low sales numbers in Q2 2020 and then started falling in double-digits again in the second half of the year.
The financial crisis in 2008/2009 hit Portugal and the Portuguese automotive industry more than any other country in Europe, except Greece, and the market lost over 75% of pre-crisis volume in three years.
However, since 2012 the economy started to recover and was followed by the auto industry, which scored 6 years of growth from 2012 when a negative peak of below 100,000 units was hit, and 2018, when car sales were 225,825. In 2019 the market pushed the brakes, ending the year at 223,796 sales (-2.1%).
Due to the COVID-19 pandemic sales have plummeted in  2020. In fact, sales have been 145,417, reporting a decline of 35% compared to 2019.
In 2021 the year started negatively for the Portuguese market, in fact, in Q1 31,039 units have been sold, reporting a 31.4% decrease in sales, followed by a huge increase in Q2, reporting a 157.6% increase in sales with 50,406 units due to the very low volumes in Q2 2020.
In Q3 sales started falling again in double-digits, losing 23.8% sales with 31,080 units, and remained down 14.2% in Q4 with 34,112 units.
Indeed, Full-Year sales for 2021 have been 146,637, reporting just a 0.8% increase compared to 2019.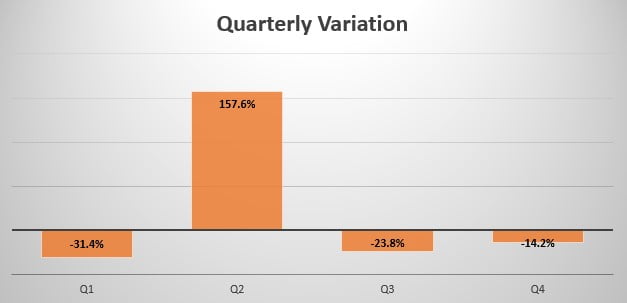 Brand-wise, this year the new leader Peugeot (+11%) gained 1.1% market share, overtaking Renault (-17.1%), which lost 2.3% share, and followed by Mercedes which lost 1.7% share, falling 17.2%.  BMW gained 7.1%, followed by Citroen which gained 4.9%.
Toyota -up 5 spots- reached 6th place and gained 26.9%, followed by Hyundai, which rose 5 spots and reported the best performance by gaining 49.3% sales, and by Volkswagen -up 1 spot- which gained 7.8%. Closing the leaderboard we have Seat -down 1 spot- losing 10.4% this year and Nissan which fell 4 spots, losing 18.8% and reported the worst performance.
The most sold vehicle this year remains the Renault Clio (+5.4%) with 8,424 units sold, followed by the Peugeot 2008 (+61.9%) registering 7,742 new sales this year. The Renault Captur (+64.4%) enters the podium by jumping 1 spot with 6,955 new units sold.
Tables with sales figures
In the tables below we report sales for all Brands, top 10 Manufacturers Group and top 10 Models