Singapore vehicles market in 2020 falls by 35.6% as the pandemic and lockdowns affect sales. Full-Year sales have been 44.455. Toyota becomes the new leader, followed by Mercedes, while Honda falls in third place.
Economic Environment
The economic picture is one of gradual recovery, following advanced estimates indicating a significant slowing in the pace of contraction in the third quarter. The easing of circuit breaker policies throughout the quarter saw industrial output rebound strongly, while non-oil exports declined at a softer pace in the same period.
Turning to Q4, the continued reopening of the economy and the low level of new daily Covid-19 cases should support business activity and consumer spending. Meanwhile, both the manufacturing and electronics PMIs indicated a continued improvement in conditions within their respective sectors in October.
However, the reimposition of mobility restrictions in key international markets bodes ill for the services sector in Q4, particularly for businesses involved in tourism activities, amid markedly reduced visitor arrivals.
Market Trend
The Singapore car market has been hit in 2020 by the world-wide COVID-19 pandemic, which has impacted sales significantly.
In the first two months of 2020, according to data released by the Singapore Bureau of Statistics, auto sales started in a very negative tone. Moreover, due to the Coronavirus outbreak, the country took temporary control measures in March and – in response to growing numbers of new cases – announced a stringent set of preventive measures which were collectively called a "circuit breaker", applied from April 7. As a result, the market lost 28.3% in Q1 with 14.699 sales.
In the second quarter, the market reported awful performances throughout all months. Indeed, the sales crumbled 90.1% in April, while completely halting in May (-99.2%) and only moderately improving in June (-82.7%), leading the Q2 at just 1.794 units sold.
As a result, the First Half ended at 16.493, down 50.9% from the previous year. 
In Q3 14.581 units have been sold (-17.9%), reporting an effective recovery, which continued in Q4 with 13.389 units sold (-9.5%).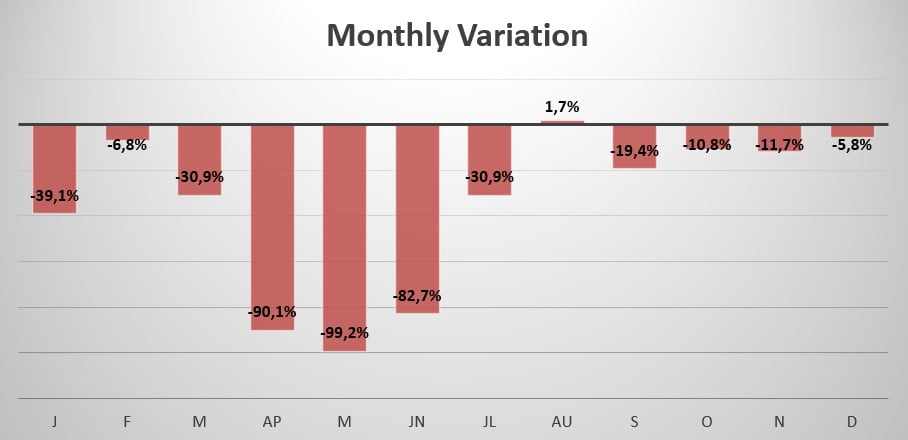 Indeed, Full-Year sales for 2020 have been 44.455, reporting a decline of 35.6% compared to 2019.
Brand-wise, this year the leader Toyota (-28.6%) gained 2.4% market share, followed in second place by Mercedes (-16.3%), which now holds 14.8% share, and Honda (-58.6%) with 14.8% share.  BMW rose in 4th place and lost 18.6%, followed by Mazda -up 2 spots- which lost 22.1%.
Audi reached 6th place and lost 10.4%, followed by Hyundai (-60.4%) -down 3 spots- and Kia -down 2 spots- which lost 53.5% sales. Closing the leaderboard we have Nissan -up 1 spots- losing 34.4% this year and Volkswagen -up 2 spots- in last place losing 22.7%.
Tables with sales figures
In the tables below we report sales for all Brands and top 10 Manufacturers Group.