Syria's vehicle market in 2021 drops by 33.4% with 1,958 sales, reporting positive performances only in Q2 and Q3, and dropped in double-digits the rest of the year. Leader Hyundai keeps losing share to the follower Kia.
Market Trend
The Syrian car market this year failed to recover from the pandemic crash in 2020, and reported positive performances in only Q2 and Q3.
Not long ago Syria was the biggest car market in the Levant region. Only 10 years ago, with a volume of 87,500 annual sales, the Syrian new market represented a relevant reality within the region. Unfortunately, in this decade the country was destroyed by the civil war and terrorism and the entire economic structure collapsed, including the automotive industry.
Between 2010 and 2013 the market has lost more than half its sales a single year, with 2014 volumes at 23,955 units. The fall continued and the negative peak was hit in 2017 when the market lost 90% from 2010 at 7,978 units. In 2018 sales marginally recovered at near 10,000 units, but the data on 2019 was down again. In fact, total sales in 2019 were 8,347, down 15.8%.
Because of the COVID-19 pandemic, social and political instabilities in the country sales significantly decreased in  2020. In fact, sales have been 2,941, reporting a fall of 64.8% compared to 2019.
In 2021 the year started very negatively for the Syrian market, in fact, in Q1 404 units have been sold, reporting a 66% decrease in sales compared to Q1 2020, while in Q2 sales started growing quickly due to the extremely low units in Q2 2020, reporting a 261.7% increase in sales with 604 units sold.
In Q3 sales remained up 68.7% with 636 units sold, while in Q4 sales dropped a huge 73.6% with 314 units sold.
Indeed, Full-Year sales for 2021 have been 1,958, reporting a 33.4% decrease compared to 2020.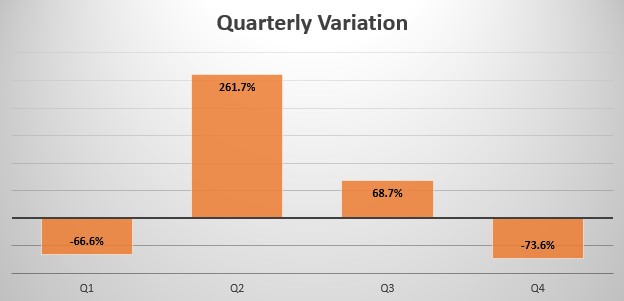 Brand-wise, only 2 brands have sold vehicles in the country: the leader Hyundai fell 34.9% and lost 1.6% share, while Kia lost 29.5% sales, gaining the 1.6% share Hyundai lost.
The most sold vehicle this year remains the Hyundai Tucson (-40%) with 499 units sold, followed by the Hyundai H-1 (+104.2%) -up 4 spots- registering 337 new sales this year.