Taiwan's car market in 2021 falls by 1.1% with 449,859 sales, reporting a very strong Q1, but reported a drop in sales all other quarters. CMC reports the best performance this year, gaining 114.8%, while Mitsubishi drops 55.2%.
Market Trend
Brand-wise, this year the leader Toyota (+0.1%) gained 0.3% market share, followed by the rising Ford (+12.1%) -up 4 spots-, which gained 0.8% share. Honda closed the podium and lost  0.5% share, falling 8.3%.  Nissan fell in 4th place and reported a loss of 16.7%, followed by Mercedes which lost 7.7%.
Taiwanese vehicles market (cars+LCVs) in recent years grew up with a series of all-time record and breaking the 400,000 units milestone in 2014. On this road, during 2017 sales hit a new record, the second in a row, with 446,669 units sold (+1.6%).
However, in 2018 the vehicles market decelerated, closing registrations at the lowest volume since 2015, with 432,314 sales (-3.2%) while in 2019 sales were at 435,915.
Full-Year sales for 2020 have been 451,235, reporting an increase of 3.5% compared to 2019.
In 2021 the year started positively for the Taiwanese market, in fact, in Q1 121,575 units have been sold, reporting a 17.1% increase in sales compared to Q1 2020, while in Q2 sales started falling slightly, reporting a 5.2% decrease in sales with 100,234 units.
In Q3 sales kept falling slowly, losing 2.8% sales with 112,345 units, and in Q4 the sharpest drop of the year was recorded, dropping 10.8% with 115,705 units.
Indeed, Full-Year sales for 2021 have been 449,859, reporting a 1.1% decrease compared to 2020.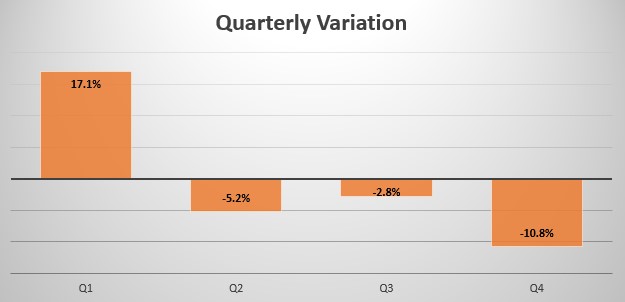 Tables with sales figures
In the tables below we report sales for top 10 Brands.