German auto market in 2020 falls by 19.1% as the pandemic and lockdowns affect sales. Full-Year sales have been 2.92 Million, the lowest annual volume since 2010. Volkswagen holds the entire podium of most sold vehicles while the Volkswagen Golf keeps losing share.
Market Trend
The German car market was hit harshly in 2020 as the global pandemic has impacted sales tremendously. In fact, we recorded the lowest annual volume for the country since 2010.
It is the largest and most stable car market in Europe, with a medium-term growth started in 2010 when car passenger sales were 2.91 million. In 2019, despite all pessimistic views on the economic environment, the market reached 3.6 million car passenger sales, hitting the new all-time record.
Considering the LCVs segment with 2019 at 343.000 units, the German light vehicles market figures were 3.94 million, the fourth largest market after China, USA, and Japan.
After starting the year with a slight negative trend (-7.3%), the market quickly collapsed in March as the virus struck. The sharpest drop in sales this year was in April when sales declined by 61.1% as the country was put in lockdown. Indeed, on March 22, a national curfew was imposed, authorizing individuals to leave their living quarters for certain activities, but not in groups exceeding two people if they do not share the same household.
In the following months, the market was recovering effectively, reaching just a 5.4% loss in July thanks to the EU incentives on Electric vehicles, and there experienced a mixed trend for the remaining months.
Indeed, Full-Year sales for 2020 have been 2.917.678, reporting a decline of 19.1% compared to 2019.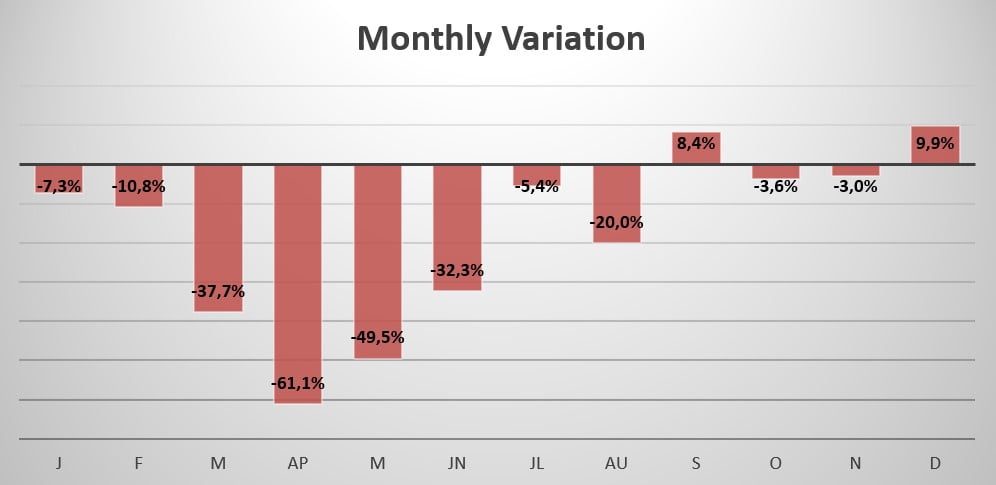 Brand-wise, this year the leader Volkswagen (-21.3%) lost 0.6% market share, followed by the growing Mercedes (-10.6%), which gained an impressive 1% share. BMW -up 1 spot- gained 0.5% share, falling 13.7%.  Audi jumped in 4th place  (-19.9%), followed by Ford which fell 2 spots and lost 30.6%.
Skoda -up 1 spot- lost 13%, followed by Opel which reported the worst performance in the leaderboard, falling 32.3%, and Renault which on the other hand jumped 1 spot and reported the best performance in the leaderboard, losing only 4.4% sales. Closing the leaderboard we have Seat -down 1 spot- losing 17.4% this year and Hyundai which remained in 10th position, losing 18.9%.
The most sold vehicle for the 40th year in a row has been the Volkswagen Golf (-33.4%) with 136.324 units sold holding 5.1% share, followed by the Volkswagen Passat, which jumped 3 spots and gained 2.7% registering 60.904 new sales this year. The Volkswagen Tiguan (-31.2%) closes the podium falling 1 spot and selling 60.380 units.
Tables with sales figures
In the tables below we report sales for all Brands, top 10 Manufacturers Group and top 10 Models.