Angola's auto market in 2021 drops 6.5% with 1,819 sales, reporting a double-digit loss in sales in the second half of the year. Leader Toyota loses 14.6%, followed by Nissan (+0.6%).
Market Trend
Tanzania's car market this year was unable to recover effectively, and reported double-digit losses for all the second half.
The new light vehicles market in Tanzania is stable in the range between the 2,000 and the 3,000 annual units, still penalized by the easy access of imported used vehicles.
In the last decade, the market performed between the lower peak of 2,035 units in 2016 and the higher of 3,314 in 2013, with 2018 at 2,258 units.  In 2019 the light vehicles market has lost 20.2%, mainly due to a very low Q4, ending the year with only 1,914 sales, the lowest level since 2010.
After such low sales the previous year, in 2020 the market grew slightly, in fact, sales have been 2,015, reporting a 5.3% increase.
In 2021 the year started positively for the Tanzanian market, in fact, in Q1 550 units have been sold, reporting a 2.6% increase in sales compared to Q1 2020, and in Q2 sales started growing extremely quickly, reporting a 175.7% increase in sales with 510 units due to the very low levels of sales experienced in Q2 2020.
In Q3 sales fell 44.6% with just 398 units sold, followed by a loss of 28.5% in Q4 with 361 units sold.
Indeed, Full-Year sales for 2021 have been 1,819, reporting a 6.5% decrease compared to 2020.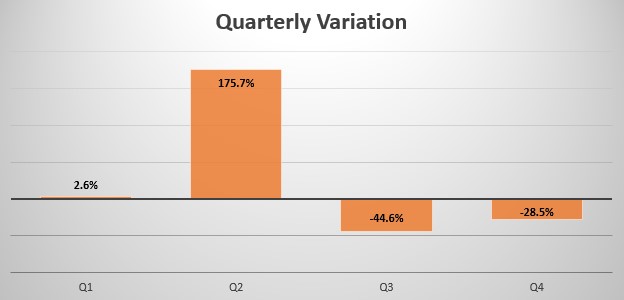 Brand-wise, this year the leader Toyota (-14.6%) lost 2.8% market share, followed by Nissan (+0.6%), which gained 1.1% share. Ford (+7.8%) remained in the third spot and gained 2.2% market share.
The most sold model in the country is the Ford Ranger with 301 sales (+8.7%), holding 15.7% market share.